YELP REVIEWS
Take a look to see what customers of R & S Landscaping are saying about our landscaping services below on Yelp!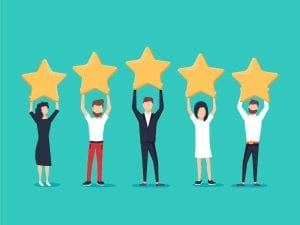 Carol M – Albuquerque NM

Review Date – Dec. 7, 2019


I cannot say enough good things about this company! Picture it…it is the week before thanksgiving and a bitting cold wind wisps leaves from their home on multiple branches on multiple trees to the floor of our backyard. The floor of our backyard, which was once a vibrant green from our grass with a nice contrast of red bark scattered between bushes, is now covered with brown and gray leaf blanket. Some areas of the yard have leaves piled so high your leg up to your shin disappears as you step into it. A sudden panic runs through you, this will be the first thanksgiving my family and my significant others family will celebrate in our first home and the backyard, that once looked very manicured, now looks as if it has never seen a rake!

I quickly went onto yelp to find help! R&S was quick to reply, under an hour! I provided the information and within 24 hours they had set me up with an appointment to have an estimate evaluation of my yard. Within 48 hours I had a quote and a date for leaf removal prior to thanksgiving!

The day of leaf removal 2019! They showed up on the scheduled date before 8:00 am! We have grass, mulch/tree bark pieces, and small gravel all around our yard that was completely covered with leaves. After R&S finished the yard looked as if the leaves on our trees had vanished and time had simply rolled back to the last time we had manicured our yard! The mulch and gravel were almost completely undisturbed! I am not sure how they did it but WOW! I will definitely be recommending them and taking advantage of their services again! The price was also one of the cheapest that came through my yelp inquiry!

I cannot say enough about this amazing company! Thank you guys!
Randy L – Albuquerque, NM

Review date – Oct. 12, 2018


Robert came out and looked at the tree I needed trimmed.  He gave me an estimate that fit in my budget and was very reasonable.  I made the appointment.  He and his workers arrived at my house on time, went straight to work and had it done in about 3 hours.  They did an excellent job.  The only downside was that when paying by credit card the have a 3 percent fee, which is no big deal, but if I had known that I would have had cash ready.  Anyway, their work is quick and excellent and I recommend the and will use them again