Irrigation Albuquerque NM
Give R & S Landscaping a Call at 505-271-8419 to Schedule an Irrigation Quote or Irrigation/Sprinkler Service for Your Home or Business Today!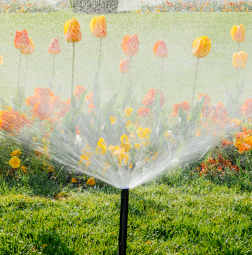 R & S Landscaping offers real solutions for Albuquerque, NM home owners and business owners garden, flower bed, landscaping plants and lawn irrigation and sprinkler needs!
R & S Landscaping, an Albuquerque, NM, irrigation system
design and installation provider, is in business to provide brand-new
installation, irrigation system review and tune-up and lawn sprinkler repair
service. R & S Landscaping irrigation
watering systems can aid you in achieving your landscaping, flowerbed and
property plant watering goals. Irrigation in Albuquerque, NM can be tough as
you probably understand because of City of Albuquerque water authority water
rules, so maybe you wish to think about installing an irrigation drip system.
Allow R & S Landscaping to create a design and build the ideal system for your Albuquerque,
NM home or business' grass lawn and its landscaping. After we're done preparing
your irrigation water system design plan, you'll know precisely where pipelines
for your gardens, flowerbeds, lawn and plant irrigation equipment is to be
installed and where all the drip bubblers will be on the system.
We just use the most effective industrial quality irrigation
water system products as well as water conserving tools on the market to create
a long-term as well as reliable system. A premium irrigation system and lawn
sprinkler system ensures you will keep your plants and lawn looking amazing and
also protect your landscape financial investment while aiding to provide
streamlined upkeep and also a beautiful pleasing atmosphere.
For your Albuquerque, NM home or commercial property's
gardens, lawns, flower beds and plant irrigation we will certainly combine a
range of needed drip bubblers and/or sprinkler heads for the specific watering
requirements of each plant and location throughout the property.
Irrigation and Sprinkler Watering System Review
It is essential to keep your automatic sprinkler tuned up
and running right all the time. Sprinkler heads can become broken or redirected
as a result of lawn mowers, pets, and so on. Additionally, you property may have
defective or broken sprinkler heads that are not doing as well, or are just
broken. Maybe there is some mineral scale build-up throughout the system. When this takes place, your lawn &
landscape irrigation system will not water your property's plants or lawn property.
You may start seeing patterns or brown spots, which shows your system needs a complete
review. One more consideration to look
at is the modification of the watering system's water drip bubblers. Sprinkler heads installed on the system could need
to be periodically increased, reduced, or moved with growth and adjustments in
your grass, plants & shrubs. By having seasonal checks, you can be
guaranteed of constantly having correct watering protection for all the plants,
trees, and lawns on your property.
Lawn Sprinkler Repair Service
Albuquerque, NM home owners and commercial property owners
absolutely should make sure their irrigation water system is in good functioning
order because it is necessary to preserve your yard and landscape financial
investment with proper regular smart watering with built in water conservation
and budget at the top of mind. When
damage to an water irrigation system happens, the system will not provide the
needed water coverage for your Albuquerque, NM home or commercial property. The
R & S Landscaping irrigation professionals will examine your system needs
and then recommend a proper course of action to repair it and make sure it will
work well going forward. We will complete the work on your irrigation system so
it works right and provides the best possible water coverage for your
Albuquerque, NM, home or business.
When you need a brand-new irrigation system installation, a
review, a tune-up , or your irrigation system needs fixing, make certain you
call the Albuquerque, NM irrigation professionals at R & S Landscaping today
at 505-271-8419.