Albuquerque, NM Xeriscaping
Give R & S Landscaping a Call at 505-271-8419 to Schedule Xeriscaping for Your Albuquerque Home or Business Today!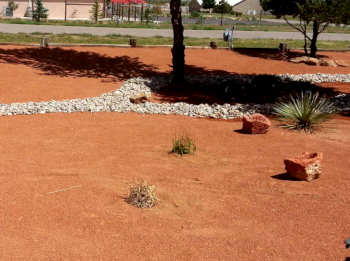 Albuquerque, NM is the biggest city in the state with set of
environmental challenges home owners and commercial properties owners are required
to deal with when it comes to water and landscaping. The Albuquerque Water
Authority has mandated staggered watering days property owners have to comply
with. If a home has a lawn, flower beds and a garden, mandated staggered
watering days makes it hard to keep plants and lawns alive. It is why xeriscaping
makes perfect sense for landscaping an Albuquerque, NM home. Xeriscaping is
beautiful, it uses far less water, it costs less money in the long run and it
is super easy to maintain. By focusing a
concentrated effort on xeriscaping, our focus is to help our desert community
sustain both its elegance and water resources as we remain to grow as the
biggest New Mexico city.
What is Xeriscaping Albuquerque?
Xeriscaping is among one of the most efficient means to
lower the quantity of water you use up on your landscaping. Where many people
think that a full overhaul is needed, R & S Landscaping can install
xeriscaping without the need of an extreme landscaping makeover. By using the
plants as well as trees that are native to the desert and highlighting their
beauty with a range of landscape design components, we work to both beautify
your outdoor living spaces plus sustain Albuquerque's limited water sources. Well
done xeriscaping not only adds to the value of your home, it aids to lower your
monthly water bill, plus it alleviates you from time-consuming landscaping
maintenance duties.