Albuquerque NM Landscaping Maintenance
Give R & S Landscaping a Call at 505-271-8419 to Schedule Landscaping Maintenance for Your Home or Business Today!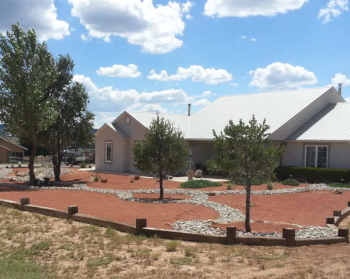 R & S Landscaping, an Albuquerque, NM, landscaping firm, supplies landscaping upkeep programs that can be customized to match any type of home owner's or industrial property owner's spending plan and landscape design requirements. Our customers can choose from a general clean up (one-time service), regular, bi-weekly, monthly, bi-monthly as well as quarterly upkeep programs. We schedule the exact same crew to service your home or business every week, so you will be able to see and learn more about your maintenance crew, along with your crew becoming familiar with you, and what you like. Using the same crew for each landscaping maintenance work shift helps us and our team's much better suit each of our specific customer's demands and any special requests. Your home or commercial building is worked on the exact same day of the week for all regular maintenance solutions, to make sure that your time is liberated. We do the landscaping work for you, which eliminates the hassle and time constraint for you.
During our visit, we will do our scheduled landscaping
maintenance tasks, check on the wellness of your landscaping plants and/or
lawn, the operating functioning of your irrigation watering system and we will
certainly report any kind of problems and/or make suggestions, as well as provide
ideas on how we can improve your landscaping. Please review our company's Albuquerque
Landscape Maintenance Services package here to obtain full view and idea how we
can be of service to you for your home or commercial property's landscape maintenance.
With our home landscape maintenance services program, we will
provide the following tasks each visit:
Mowing - Prior to
mowing, the lawn areas of the property will certainly be policed for garbage,
plant debris and any loose rocks. In locations we cannot reach with a
lawnmower, we will string cut the grass to the same height of adjacent grass.
All grass areas will be left consistent with the mowed lawn canopy.
Lawn Edging – During
each service call we will complete edging of the property's concrete features
including the edges of curbs, walkways driveways at each mowing during the
growing period with a steel blade lawn edger. We will certainly edge the lawn
of your property as required throughout the winter months.
Weeding - Our
goal is to constantly regulate weeds, while making sure no harm comes to any of
the property's hedges, grass lawns, decorative rock ground covers or trees. All
decorative rock landscaping beds and flower beds will certainly be weeded
during our visits throughout the year. We use safe herbicides on any kind of
weed that we can securely apply it to without injuring bordering plants. We
hand draw weeds within plants, bushes or decorative rock beds and we also make
sure all your flower beds will certainly continue to be weeded consistently.
Hedge Trimming -
We provide basic bush as well as hedge row trimming. All hedge trim waste is
picked up at the end our visit and disposed of offsite. We are committed to
making certain your property is maintained with a tidy, special appearance.
Landscaping Maintenance
Services Visit Final Check – We review your property and make certain all surface
areas will certainly be blown free of debris and swept up from the landscape
maintenance preformed, the watering irrigation & the lawn sprinkler system
will be checked for any type of concerns we might have created or for basic
upkeep demands, and all gateways of the property will certainly be checked for
closure.
Springtime &
Autumn Clean-ups - Throughout the Autumn Season, all leaves as well as
particles will certainly be removed during every visit. This ensures fallen
leaves will certainly not rest on your lawn or landscaping during the winter
season, creating dead spots in the springtime! Throughout Springtime Period, we
will remove all dead or unwanted plants. We can happily change or plant new flowerbed
flowers, landscaping plants, or trees.
A La Carte Landscaping
Services
Overgrown Brush
Cleaning - Despite the immenseness, dimension or condition, we can get that
over-grown brush section of your property looking good again. Additional charges will be established and
agree do with you, before any services are carried out.
Lawn Dethatching
- Removal of excessive turf accumulation to boost breath-ability as well as
permit even more nutrients and dampness to get to the dirt, enhancing turf
health and wellness and improve lawn grass blade density.
Aerating - Two
times a year we will aerate your yard. Freshly completed aerating loosens lawn
compaction to help lawn growth and nutrient retention, which boosts lawn health
and wellness, longevity and lawn blade grass density. An added service charge
will certainly be called for to execute this solution and will certainly be
discussed with you prior to completion.
Rain Storm and/or
Wind Storm Cleanup Services - 24/7 emergency storm clean-up services are
offered by R & S Landscaping and they are readily available. We prepare in
advance of every storm, to make sure that when you require us, we are ready to come
to your aid. Service charges for storm clean-up will be figured out and agreed
to with you prior to any kind of service done.