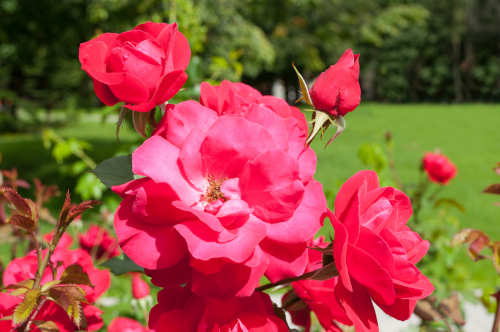 There are several perennials that are perfect for sunny areas that need some color, but what about the areas that are shaded most hours of the day? Here are a few perennial ideas for more shady gardens.
Hosta is known for its versatility, as it comes in copious varieties of texture, color, and even size! Hummingbirds and butterflies are attracted to the fragrant flowers during the summer which usually come in a white, lavender, or pink variety.
Japanese Hakone grass (Hakonechloa Macra "Aureola") grows in a dense mound and is popular due to its cascading leaves that arch in a fashion resembling a weeping willow and long season. It works well as either a ground cover or a specimen plant and is also resistant to pests and deer.
Purple bugbane (Cimicifuga Simplex "Brunette") is a suggested partner for the hakone grass, it stands a foot to two feet in height and has long, fluffy spires accompanied by small, yet strongly fragrant, white flowers. Even though it attracts birds and butterflies, more troublesome critters – like deer and rabbits – tend to ignore it completely. The leaves of the "Brunette" variety are a dark purple color and when they fruit towards fall, the flowers appear to be more of a pinkish-white.
To wrap up this list of suggestions is a wonderful perennial that is happy to be planted in any amount of sunshine or dappled shade. The Ligularia, or "Brit Marie Crawford", is also known as a leopard plant. It is recognized by its rounded, dark leaves with deep red peeking out from the undersides. When it is time to bloom (midsummer to early fall), the foliage shoots up purplish black stems with clusters of bright orangish daisies. These can grow 3 to 4 feet tall and a couple feet wide.
There are many more sizes, styles, and colors of perennials, so with a little imagination and planning, you can find a perfect plant to accentuate any feature of your home or lawn.