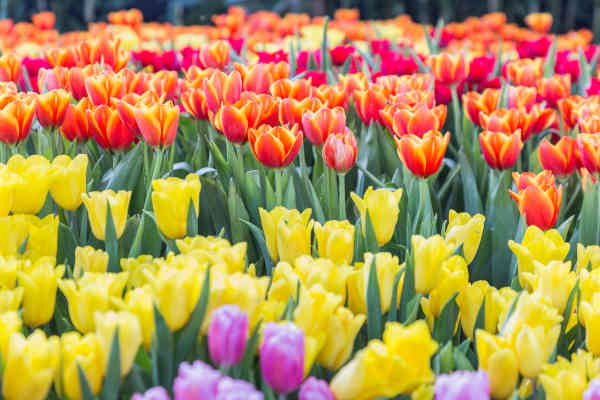 Most all plant lovers can name their favorite perennials, they are resilient plants that can thrive even with minimal water and care. Here are a few examples and descriptions to show just how much these low maintenance, recurring favorites can do for the look of your landscaping.
"Angelina" stonecrop, scientifically known as Sedum Rupestre, is a cactus like succulent. It has an unusual texture, is bright yellow-green in color, and has no pests or diseases. It is a fast spreading, drought resistant, ground cover that is easy to divide and provides a nice pop of color. There are many different species in the Sedum family, so if this sounds ideal for your yard, it is likely that you can find a color to properly match your aesthetic.
The "Purple Dome" aster (Aster Novae-Angliae) is equally carefree. It can be planted in partial to full sunlight and blooms later in the season to keep your landscaping full of color through later in the fall. It has bushy green foliage prior to flowering and can be easily mixed with other Asters for a multi-colored effect.
Russian sage loves the sun and blooms from July to frost. It has frosty looking white stems in the winter and is resistant to deer and pests. It is ideal for more dry landscapes and can be easily used as divider hedges and is a good companion to most all plants and ornamental grasses.
Black-eyed Susans (Rudbeckia Fulgida "Goldsturm") are vibrant, yellow, daisy-like perennials that bloom late summer into fall and have interesting seed heads during the winter. This border plant is ideal for more humid climates with clay like soil.
Feather reed grass (Calamagrostis Acutiflora "Karl Foerster") is good for adding vertical motion along borders and in clusters to help control potential erosion. Its feathery stalks bloom red in the spring and fades to a golden hue in the fall. This foliage thrives in more wet soils so you may have to water them a bit more often even after they are established. Feather reed grass is also a fast-growing plant, but luckily produces sterile seeds so you don't have to worry about it over-populating and taking over your landscaping.