How to Buy a Fruit Tree for Your Albuquerque Area Home – Part Two
Fruit Tree Maintenance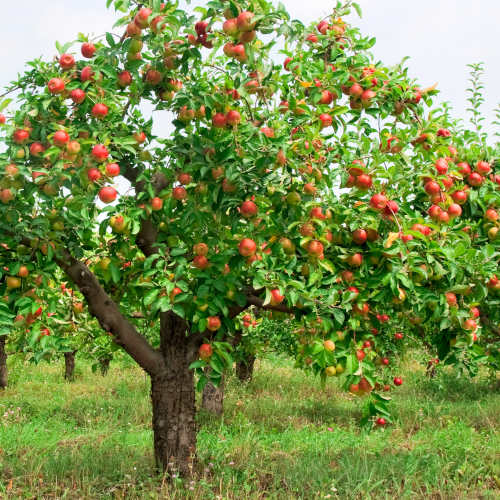 Picking the right tree for the Albuquerque Hardiness Zones is smart, but it does not mean the tree will survive and thrive during the summer automatically. Unlike trees that are native to the Albuquerque area (Juniper and Pinon), fruit trees require more direct care. Do not move forward with buying a fruit tree and waste your money if you don't have a care plan to make sure the tree does well.
Watering on a set schedule is a must. Also, you need to stop the tree from producing fruit for the first 3 or 4 years. The reason this is done is to allow the tree to expend its energy towards growth and not towards producing fruit. This strategy will allow the tree to bigger and grow a strong root system, which will hopefully give it the need stability to grow, produce fruit and be enjoyed for years to come. To ensure the tree does not produce fruit during the first 3 to 4 years, you'll need to take the time to learn when to prune the tree and how to do it properly to help it with its early growth cycles.
Pick a Spot with Room for Tree Growth
Fruit trees to grow and some grow to enormous sizes. Take this factor into consideration when choosing the tree or trees your going to buy for your Albuquerque home. It sounds ludicrous, but do not buy a tree that will get bigger than your yard can handle. In the end you will have to remove the tree and give it away or just cut it up down the road. Be aware of the fact neighbors are rarely happy about fruit landing in their yard that is not from their own tree.
Pick a Spot for the Tree that has the Right Amount of Daily Sunshine
Sunshine is a big requirement of many fruit trees. Make sure the spot you pick to plant your fruit tree or fruit trees will receive the right amount of sunshine each day. Additionally, fruit trees need to be pruned back with pruning tool with a small amount of disinfectant on it after the end of the growing season during late fall or early winter. Stone fruit trees need to be pruned during the summer.
Fruit trees are amazing because they are so pretty to look at, they produce nice shade for your property and they produce fruit. If you're thinking of adding a fruit tree or fruit trees to your Albuquerque home landscaping, give us a call at R & S Landscaping to discuss the project with us. We'll glad to give you a quote to complete the entire project for you.