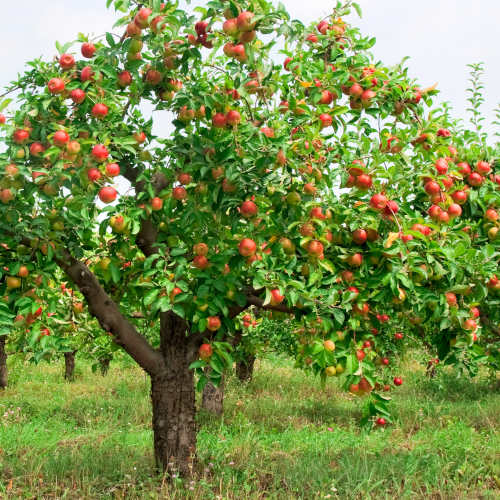 Adding a fruit tree or fruit trees to your Albuquerque home landscaping has a lot of advantages including improving its beauty and the possibility of a small fruit crop. Besides those facts, several other factors need to be taken into consideration when buying a fruit tree including the amount of sunshine it can receive, the make-up of the soil and the Albuquerque climate. If the factors and the physical setting are not what the tree needs, it will not grow, bloom or produce fruit.
Here are a set of factors to look at when choosing a fruit tree for your Albuquerque area home.
What is the Albuquerque Hardiness Zone?
Tropical fruit trees are not going to be growing at your Albuquerque area home. You are not going to plant a lemon tree in the Duke City. Knowing which fruit trees do well in Albuquerque is dictated by the plant hardiness zone for the Albuquerque area. You need to pick the right fruit tree that matches the Albuquerque hardiness zone so it will stand a good chance at thriving and eventually producing fruit. Albuquerque's listed at Zone 7a on the northeast side of the city and it is listed at Zone 7b on the west side. Those Zones' mean winter temperature lows are listed between + 0 and + 10 degrees Fahrenheit. Be sure your new fruit tree or fruit trees can handle those temperatures. Most nurseries you go to for your tree purchase will only offer trees that will thrive in the Albuquerque, NM Zones. Otherwise, if they sold trees that would not survive, they would most likely get the trees returned and need to refund customer money.
Fruit Tree Maintenance
Picking the right tree your Albuquerque landscaping and for the Albuquerque Hardiness Zones is smart, but it does not mean the tree will survive and thrive during the summer automatically. Unlike trees that are native to the Albuquerque area (Juniper and Pinon), fruit trees require more direct care. Do not move forward with buying a fruit tree and waste your money if you don't have a care plan to make sure the tree does well.
Watering on a set schedule is a must. Also, you need to stop the tree from producing fruit for the first 3 or 4 years. The reason this is done is to allow the tree to expend its energy towards growth and not towards producing fruit. This strategy will allow the tree to bigger and grow a strong root system, which will hopefully give it the need stability to grow, produce fruit and be enjoyed for years to come. To ensure the tree does not produce fruit during the first 3 to 4 years, you'll need to take the time to learn when to prune the tree and how to do it properly to help it with its early growth cycles.