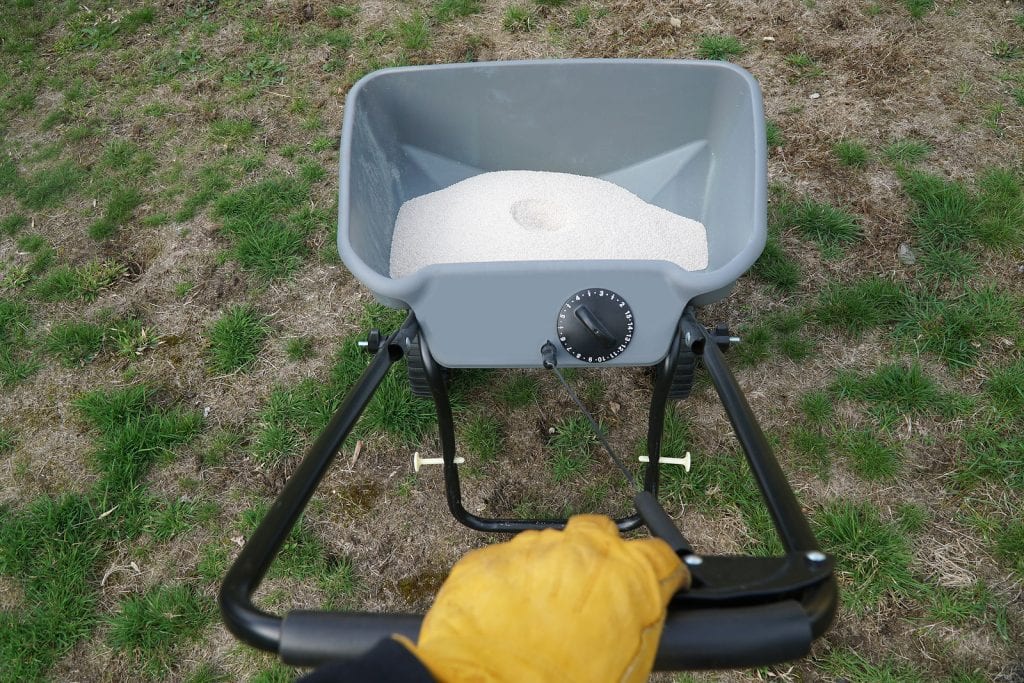 The pathway to a successful gorgeous full Albuquerque lawn is for the lawn to receive the proper amount of grass nutrients. The strategy presented here will assist you in picking the top fertilizer, create a smart fertilizer monthly game plan and teach you how to properly add fertilizer to your lawn
Fertilizing Action Plan
With the knowledge in hand on knowing the top fertilizer for your lawn and when you should fertilize your lawn in the south and the north, the next and final step is to set up a fertilizing action plan, which is as follows:

• Purchase a premium fertilizer spread at you local home & garden center or big-box home-improvement retail store
• Using your fertilizer spreader add fertilizer to your lawn after its been recently mowed with a fresh bit of dew on the grass. Doing it this way will assist you in making sure the fertilizer is laid out in an even layer. The fresh dew will help you see where the fertilizer has been added and so you don't add it where it's not needed and add it where it is still required.
• Set-Up your fertilizer spreader placed 5 to 9 feet of the product on grass as it's being spread. It is wise for homes with bigger yards to set up guides on the grass lawn so the product is only applied once to each area of the yard, and not twice.

• Applying fertilizer so it's done evenly can be accomplished by lowering the spreader setting to 50%. This will set up the application of the fertilizer, so it's applied 50% at a time per pass. Professional landscapers, greenskeepers and groundskeepers use this method all the time. It's done so the fertilizer is applied evenly all the time and so unusual darker or lighter swaths of grass don't appear throughout a lawn, golf course or baseball field.
• To distribute fertilizer evenly, begin moving forward before you turn on the fertilizer spreader and turn it off just before you come to a stop.
• Each time your use your fertilizer spreader, make sure you clean it with soap and water. Most fertilizer contains salt, which means it can cause damage to parts of your property if left uncleaned.
• Water the lawn, if possible, right after applying fertilizer. If it looks like rain, apply fertilizer just before the rain begins. Adding water will help improve the positive impact the fertilizer has on the lawn.
The Negative Impact of Putting Too Much Fertilizer
Too much fertilizer on a lawn quite often has several bad outcomes. Those negative outcomes are as follows:

• Lawns that are over-fertilized often do too well in the growth department. Super-fast growth means you'll mow more often, but it also means you may violate the 1/3rd leaf blade cut rule. The rule means never cutting more than 1/3rd of the blades of grass on a lawn. Violation of this rule many times brings on weeds in your lawn, which no one wants ever.
• Problems such as Pythium and brown patch often crop up when lawns are too wet and over-fertilized. Both problems are turfgrass diseases that require special fungicide to eradicate them.

• When huge amounts of lawn grass fertilizer have been applied way above the manufacturer written instructions provided on the bag of fertilizer you purchased to fertilize your lawn, a lawn's grass will change to light brown or yellowish straw color. The grass leaf blades burn up from the top of the blade down. If this happens to your lawn, the existing dead grass ruined by too much fertilizer has to be torn out and replaced with new grass.
Fertilizing your lawn gives your lawn grass the needed food it needs to enhance growth plus stop weeds and prevent different type so turfgrass diseases. If you'd like more tips regarding lawn fertilizing, lawn care and lawn watering, contact Albuquerque landscaping company R & S Landscaping.