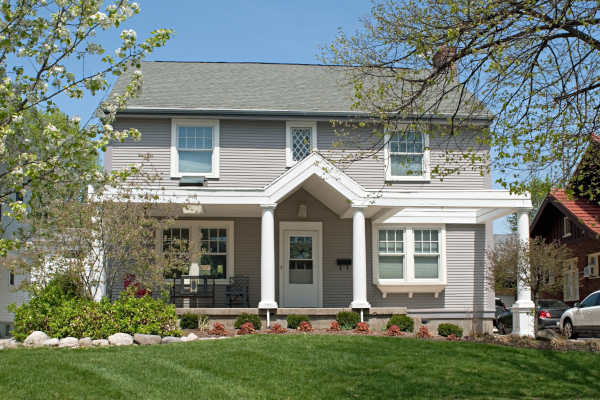 For further ideas to improve curb appeal the next thing to look at are additional strategies that don't cost an arm and a leg, but which might make a terrific difference in whether a home sells or not.
Don't get overwhelmed if your home could use some work. There are several wallet friendly improvements that can be made. Here are a few focal points that can really up your curb appeal:
Sprucing Up the Front Door
Landscaping
Pressure Wash Walkways and Siding
New House Numbers
Update Your Lighting
Upgrading the Mailbox

Front Door Décor
As the entryway welcoming guests into your home, your front door should stand out and a fresh coat of paint is a great, easy way to give new life to your door. Neutral colors can make it look like new again. Those who prefer to make a bold statement can choose power colors such as blue, red, or yellow.
If you want to kick it up a notch, there are many simple decorations, like wreaths, that can really dress up the door's appearance. There are several DIY options for the crafty or budget conscious folks out there. Try looking up year-round wreath ideas for your home for ideas.

Curb Appeal Landscaping Projects
Landscaping plays a major role in curb appeal. Even with the most impressive of porches or interesting of decorations, when a yard lacks color and or maintenance, it will distract from any other feature items you may be proud of.
Here are a few suggestions for people with a small budget of $100 or less:
Pick up anything that doesn't belong in the yard. Clear any stray debris and branches that may have blown loose and collected around the perimeter and under shrubs or other plants you may have. Put away any lingering tools and unused items, even consider removing the lawn furniture during the makeover. To ensure that grass clippings are not hanging around your driveway or sidewalk, you can borrow or rent a power washer to get a deeper clean feel on your porch, sidewalks, steps, and driveways. With a proper nozzle on your hose, you can accomplish a similar effect.
Visit your plants and take time to split, prune, and trim them up where possible. This will give your lawn a nice manicured look to it. Overgrown plants can keep natural light from entering the house. Getting rid of dead branches and diseased plants is crucial to keep the surrounding areas healthy.
Add new mulch. Not only does it give your garden beds a tidy finish, mulch helps nurture your plants. There is a variety of color options available if you shop for wooden mulch, but if you want to make your plants pop, a dark brown mulch is a great option because it looks more like healthy soil, so the colorful petals and leaves are sure to be the highlight of the bed instead of the mulch itself.
The idea and the practical part of curb appeal is to pick and way to make your home look better and then take action and do it. Once you get it done, you'll be so glad you made the decision to make the improvement.