Create Stunning Albuquerque Landscaping with Flowers – Here's How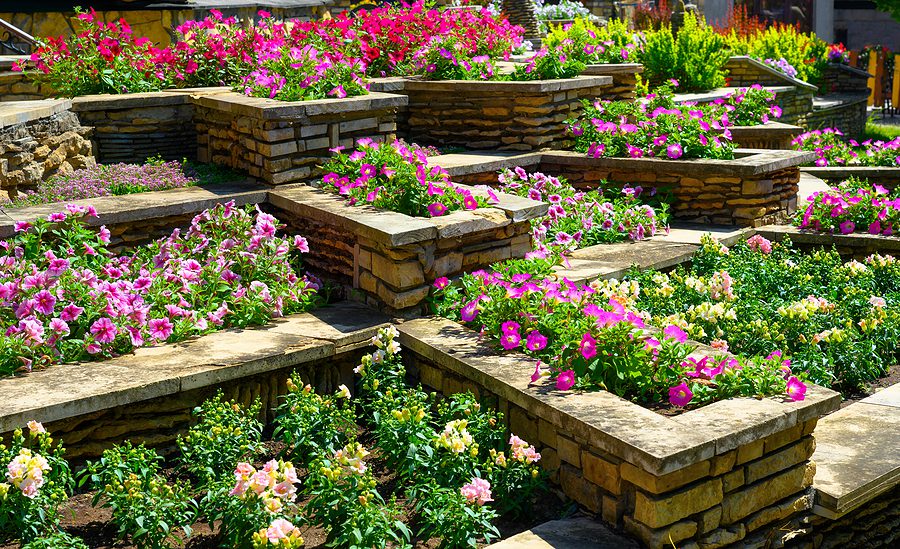 It's not always simple to know where to begin with flower landscaping. You'll need to study before deciding where to place your flowers, what flowers to use, and how to arrange them cohesively.
Have you ever admired a lush, flower-filled garden and wished you could recreate it in your backyard? There is no doubt about that! It may seem impossible to get the aesthetic you desire in your garden, but if you have the appropriate information, there's no reason you can't create your plant paradise.
Garden designers, among other things, are experts in using flowers to create stunning landscapes in virtually any outdoor location. So, here's how to incorporate flowers properly into your garden design. Your planting endeavor will benefit significantly from all the suggestions included in this article.
EXPERIENCE THE DIFFERENCE BY LEARNING FROM THE EXPERTS IN FLOWERS LANDSCAPING THROUGHOUT THE YEAR.
How much of your backyard landscaping should be dedicated to flowers is entirely up to you, your time, and the size of the space you want to develop. As a general guideline, you should aim for 70% blossoms. Even weeds, such as clover and dandelions, produce beautiful blooms. There are many ways to include flowers into your landscape, even if you don't adhere to this 70 per cent suggestion.
To maximize visual impact, place flowers in front of the house.
It's critical to have flowers in your landscape so that you may enjoy them throughout the year. This is especially crucial if you don't have much time to spend outside during the summer.
Make sure you can see your early-spring bulbs from inside your home, such as outside your kitchen window, on your patio, or even in your front yard landscaping, so that you may pass past them every day on your way into the house. The idea of putting a Daphne down at the bottom of your garden, where no one will see it blooming on a cold and wet February day, is to hide it from view. Positioning a crocus-filled garden planter near a window is an easy way to brighten a room. That's sure to lift spirits on a gloomy day!
To overcome problem areas, use the right plants.
In most places, nothing can grow at all. Additionally, you may prevent one of the most typical landscaping blunders by doing your homework and planting anything in the wrong place.
Many options are available for complex garden parts, from drought-resistant plants that flourish in poor soil to shade-loving ones who may thrive in neglected locations. So instead of feeling like you must forsake a troublesome area completely, pick a flower kind that can grow in any condition.
Use Reliable Flowers.
For a fresh floral environment, it's crucial to choose plants that will provide. Planting lupins, for example, if you have a slug issue in your garden, will result in the lupins being swiftly consumed. This will have little to no effect on the durability of your flowerbed landscaping. Having a network of reliable bloomers helps ensure your aesthetic doesn't get out of whack when other flowers fade.
A GREEN BACKGROUND WITH POPS OF COLOR IS PLACED OVER IT.
The background is just as significant as the foreground in garden design ideas. What surrounds the flowers is just as important as the flowers themselves in creating depth in your landscaping.
Consideration of the flowers' surroundings and the backdrop is always critical. Playing around with color pairings is fun to make some plants stand out more than others. Use bronze fennel and Astrantia together because the fennel's foliage is an excellent complement to the Astrantia's pink tint. A lush green hedge is a perfect backdrop for displaying a plant's natural hues. '
When selecting where to place your flowers, it's essential to consider the surrounding environment. Make your pink plants stand out by using lush green hedges. Your new garden fence color might be the perfect backdrop for a wall of vibrant climbing roses.
REPEATING FLORALS TO CREATE COHESION
This is an excellent recommendation regarding low-maintenance landscaping ideas or if you've ever had trouble coming up with an overall design. Garden designers employ the concept of fewer plant kinds to create a rhythmic landscape with flowers.
Avoid having too many flowers in the same area by focusing on a single-color palette and a more significant number of miniature plants in the same place.'
When creating rhythm in the garden, it's best to stick with a few repeating groups of the same plants (preferably in odd numbers) rather than a wide variety of plants, which can seem disjointed and cluttered.
FLOWERS INSTEAD OF SHRUBS
Instead of serving as the foundation of a garden, flowers should serve as an attractive garnish. What matters the most is how the plants appear and interact when they're not blooming, which is why choosing plants with contrasting forms and textures is vital.
Consider the form, leaf texture, persistence (evergreen or deciduous), height and spread, the flowering period, flower form and color, and even the perfume of the leaf or flower when deciding which flowers to use in a border.
Please include a few summer-flowering plants in a design to optimize their impact. Spring bulbs, late summer bulbs, fall bloomers, and even winter flowering shrubs may help lengthen the growing season and provide a more colorful show.