Albuquerque, spring is here, and summer starts on June 20th, so now is when to take advantage of the Albuquerque Water Utility Authority watering days by setting up a lawn mowing and fertilizing strategic plan. By setting up a mowing and fertilizing schedule that makes the most of when you CAN water in Albuquerque, NM, you are giving your lawn the best chance for its root system to thrive and for it to be beautiful and healthy the entire growing season.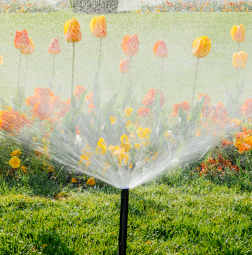 Albuquerque lawn watering does not usually involve watering too much because the Albuquerque City Water Utility Authority watering days limit the number of days a homeowner can water.
Featured below are the 2019 Water by The Numbers program watering days:
Albuquerque City Water Utility Authority Water by the Numbers program puts YOU in control. You pick your own days to water, and irrigate your landscape:
• ONCE A WEEK IN MARCH
• TWICE A WEEK IN APRIL AND MAY
• THREE TIMES A WEEK IN JUNE, JULY AND AUGUST
• TWICE A WEEK IN SEPTEMBER AND OCTOBER
• ONCE A WEEK IN NOVEMBER

Please Note: Spray irrigation is NOT allowed between 11 a.m. and 7 p.m. from April 1-Oct. 31 and is considered water waste. To learn more about water waste and enforcement, click here.
It's as easy as 1-2-3-2-1!

The Top Time to Water Your Albuquerque Lawn
Lawn grass color changes to a bluish color in sunlight and footprints remain after its walked when it's time to water grass.
• Lawn grass does best when watered during the early morning when it's cooler from 4 – 9 a.m.
• Watering your lawn when it's normally not windy, like the morning time is better because there's less evaporation and the burning effect on grass from the sun is less because it is not hot yet.
• Watering at night is not good because the lawn does not take in the moisture as fast as is needed and the unabsorbed water can bring on pests, weeds and turf grass issues
How Many Minutes Should A Lawn be Watered Per Week?
If it's not raining much in Albuquerque during the summer, the best length of time to water your lawn is 30 minutes at a time straight through, 3 times a week. Water enough so the lawn is completely covered, but don't over water. Lawns with too much water tend to stay boggy and soggy, particularly when it gets really hot like it does in Albuquerque. A lawn with too much moisture is ripe for bugs, weeds, turf grass diseases and potentially a weak root system.
Factor any rain fall into your calculations when figuring out how much water your lawn needs during each week. Lawns need ¾" – 1" of water weekly, so if it's rained that week, check the weather report to see how much rain fall your area of Albuquerque received for the week to determine if your lawn needs water at all. If there is zero Albuquerque rain fall, your lawn needs to be watered 2 – 3 times 30 minutes per time weekly. If you have bigger lawn, it may take longer to water it all, so keep it mind when doing your watering calculations.
Here are steps you can follow to determine how much you're watering your lawn each time you water. The steps are as follows:
• Use an empty cat food can for your rain gauge. Make a 1/2" mark on the inside of each can on 2 or 3 cans
• Place the marked cans every 10 feet on your lawn
• Turn on your sprinklers, check the time on your smartphone or watch and then check the cans every fifteen minutes.
• Once the cans' water levels reach the 1/2" level, calculate the length of time it took to reach the 1/2" water level
• Going forward use the length of time it took to reach a 1/2 "of water in your water gauge when watering your lawn to schedule watering your lawn two or three times per week
With this strategic Albuquerque lawn watering plan, you'll now be able to make the most of the watering and hopefully grow a stunning lawn, save on watering and deal with a drought, the next time one comes around the Duke City.
If you want to learn more about lawn care or landscaping, give the pro's at Albuquerque, NM landscaping company, R & S Landscaping a call at 505-271-8419!