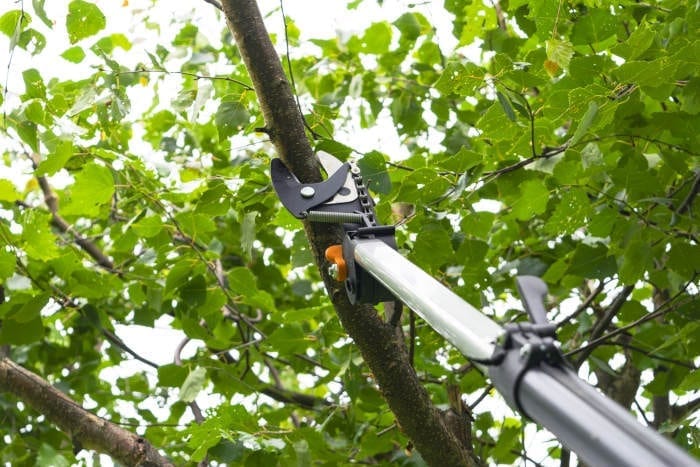 Tree, Shrub and Bush Pruning & Trimming
Albuquerque springtime means it's time to trim, prune and cull out your property's shrubs, trees, and bushes. Make this a successful task by approaching it systematically. Each tree and plant on your property needs your undivided attention when trimming and pruning them. Be sure to follow best practices when completing this task so the trees and plants come away afterwards healthier and ready to grow when springtime arrives.  Featured here is a guide to complete your property's tree, shrub and bush trimming and pruning successfully.
Prior to Shrub Leaf Coming Out Transplant Them ASAP
During the first part of spring dirt conditions are good because it retains water, making if favorable for replanting shrubs. Shrub roots are stressed from replanting, so it makes sense to make the plant conditions as favorable as possible for the plant's roots to grow and get nutrients.
When transplanting a shrub, use your shovel to locate the edge of its primary root ball and then excavate down and under it so you can pull the shrub from its location with the main root ball intact. Dig out a hole that is very wide and deep for the shrub's new location. Prior to transplanting each shrub add compost and high-quality plant fertilizer to the transplant hole. After the shrub is transplanted, fill in the hole around the plant with loose soil to enhance root growth and then place high quality mulch on top around the plant for water retention.
Bare-Root Fruit Bush Planting Like Raspberries
Stunning bare-root brambles should be planted when they are dormant. The planting should be completed 1 to 1 ½ months prior to the last winter frost. Be sure to excavate the surface where the bushes will be planted so its free of any weeds. Dig the hole by using water to soften the soil first and then dig down with a pick and shovel. Be sure to introduce ripe compost or good old-fashioned manure into the hole prior to planting the bush.
Apple Tree and Pear Tree Spring Application of Oil Sprays
When pear tree buds begin to appear and swell up, apply oil spray. From there apply oil spray once more time a week and half later to manage pear psylla and pear leaf blister mite issues. When it comes to oil spraying apple trees, complete single spray session when there is a ½ inch green tissue appearing in growing flower buds.
Ornamental Trees and Shrubs Application of Dormant Oil
Trees and shrubs that have had spider infestations and aphid issues in the past should get a good dose of dormant oil ahead of time. Completing this task early in the springtime will hopefully create a setting where applying plant pesticides when the trees and shrubs are growing will not be needed.
Do A Full Visual Safety and Functioning Check of Your Pole Pruner Prior To Using It Each Spring
Prior to beginning your pruning initiative of your trees, bushes and shrubs. Complete a full safety inspection of your pruning pole, including the head of the tool, including its cord and inspect your pruning shears as well. That last thing anyone should do is fall from a ladder when pruning due to failure of a pruning tool that could have been prevented by virtue of a completing a safety inspection of it prior to putting it into action.
To sum things up, in Albuquerque pruning, trimming and spraying your trees, shrubs and bushes will pay positive dividends for years to come. Be sure to take care of each task with due diligence because the net benefit will be realized in the beauty and health of the plants on your property.