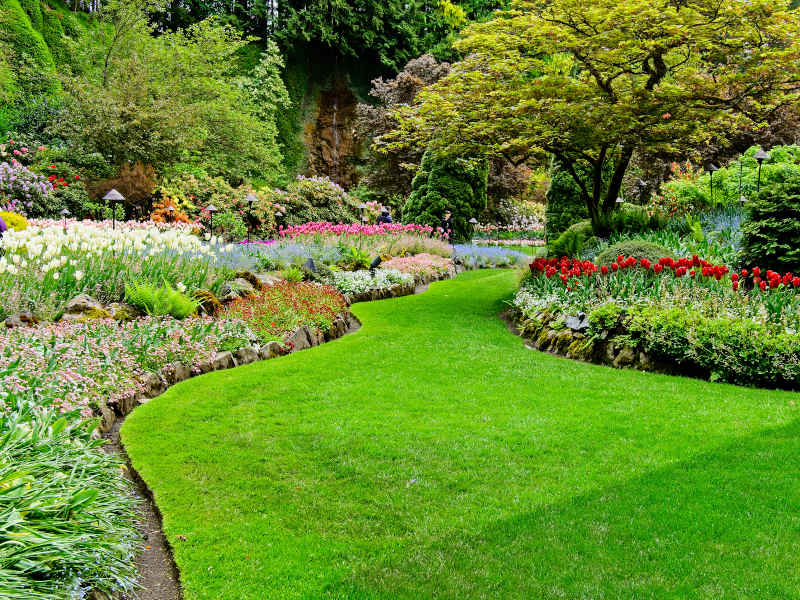 Spring will not have sprung in Albuquerque, NM until March 19, 2020. That being the case, it gives everyone plenty of time to get your garden ready for spring. Here is an action item to-do-list you can follow to help you prepare your garden for this spring.
Prepare Your Lawn for Spring
You should rake your lawn to get rid of debris and dead growth. Bringing air and light to the soil will encourage your grass to grow. This is the time to re-seed bare patches in your lawn, however, bare spots should be raked firmly beforehand with a metal rake. Then, you should dust some grass seed into your soil in a bucket, and then spread it evenly over bare areas. It is important to keep these areas well-hydrated until the seeds germinate, and your new grass becomes established. You can add any pre-emergent, non-toxic herbicides now. Corn gluten is a good option.
Repairing Bowed Sides to Raised Beds
Raised beds can be stained by soggy winter soil. Stakes can even give way to rot. It is advised to repair any leaning or bowed sides now. You should install new stakes by digging into the soil behind the bowed side and place them with a slight inward lean inside of the sideboards. Then, you should press the sideboards against the stakes and fasten them together with either nails or screws.
Fixing Fencing and Trellises
Early spring is a good time to repair your fencing and trellises as well. There will be fewer roots to disturb and less growth to have to work around. However, it is a good idea to wait until the spring rains have been able to drain through the ground before you set your new fence posts. Postholes can fill with water as you dig if there is too much moisture present in the ground.
Clearing Drainage Ditches
Drainage areas tend to collect leaves and other debris during the winter season. To ensure proper drainage when the spring rains come, now is the time to prepare. Early spring is the easiest time of year to set up your seedlings for optimal growth. You can do this by clearing drainage ditches. The best place to dispose of the the cleared materials is by placing them into the compost. Usually small branches and dead leaves, every addition helps with spring compost piles, as they are usually short on carbon-rich materials.
Spring is the time for Lime
If your soil has a pH level below 6.2, adding lime could benefit your garden. Dolomite is the most recommended, as it is ground the finest. Typical ground limestone can take up to twice as long to offer the plants any benefits. Lime should be included in your beds weeks before you start planting. There are a few "quicker" options that are discouraged, such as "quick lime" or hydrate lime. The reason being, that it alters the pH levels in the soil so quickly, that younger plants are likely to be damaged. To prevent heavy runoff in the spring, it is ideal to cover newly limed beds. You can easily check your soil's pH levels with a test kit.